Better Measurements Guide for Data Aquisition
Featured Product from AMETEK Programmable Power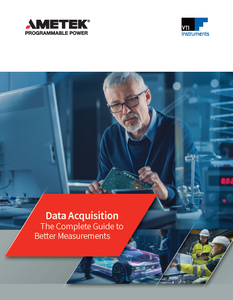 AMETEK Programmable Power's new industry resource, Data Acquisition: The Complete Guide to Better Measurements, covers everything from the finer details of signal integrity to how you can build a better overall data acquisition system. Details include how to:
Improve signal integrity and signal

conditioning

Build rugged data acquisitions

systems

Obtain high-speed synchronized data

acquisition

Improve testing

confidence
And more. Get the guide today, and make sure you don't waste your next test!