Discover all the benefits & features of SmartView
Featured Product from AMETEK Surface Vision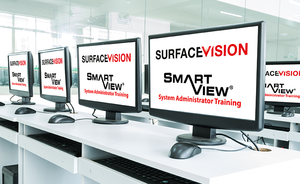 Discover all the benefits and features of the SmartView system with hands-on learning – New Courses Now Available.
Our SmartView® training packages will build technical proficiency, increase operations productivity, and maximize system uptime. Keep Reading
JOIN THE CONVERSATION:
Welcome to our newsletter where we are pleased to announce our latest news, new application notes and case studies, event attendances and much more
To receive this newsletter directly to your inbox register here.
Training
Discover all the benefits and features of your system with hands-on learning. Our training packages will build technical proficiency, increase operations productivity, and maximize system uptime.
AMETEK Surface Vision
AMETEK Surface Vision is the world leader in automated online surface inspection solutions. Our broad product range is optimized for the monitoring and inspection of webs and surfaces, and for process surveillance applications.
The SmartView and SmartAdvisor product lines deliver robust, flexible solutions to continuous production processes across a number of industries, with hundreds of customers and more than 2,000 installations worldwide.

Our systems have become vital to increasing efficiency, streamlining operations, improving product quality and reducing costs and waste in industrial processes.

We continue to innovate, providing cutting-edge technologies and world-class technical support that delivers highly accurate defect data, high-definition video, intelligent grading, archiving and detailed reporting.