Ensuring Paper Quality
Featured Product from AMETEK Surface Vision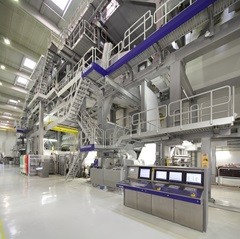 Ensuring Paper Quality - Web Monitoring and Inspection on a High-Speed Paper Coating Line
Early defect detection and classification is essential to productivity and efficiency on paper coating lines. Challenged to provide a state-of-the-art solution for a major paper manufacturer's premium coating line, AMETEK Surface Vision delivered a reliable, comprehensive system that fully met customer expectations, while increasing productivity and winder throughput.
Mitsubishi HiTec Paper Europe GmbH is a paper manufacturer based in Bielefeld, Germany. Known for high-quality products, it is part of the Japanese company Mitsubishi Paper Mills Ltd, and produces coated inkjet, thermal, carbonless, label and barrier papers.

The Bielefeld site operates two paper machines, three coating machines, and seven winders.

The premium coating machine, designated SM3, is the most productive coating line at the plant, and runs at 1850 m/min. It is used for the coating of thermal paper for different applications, so defects, including streaks in coating, need to be detected as early as possible.
Web inspection and monitoring requirements
The coated paper produced by the SM3 line has to meet the quality standards demanded by customers. The existing web inspection system was aging and no longer able to meet Mitsubishi's increased requirements, and so had to be replaced.
Because of the importance of the SM3 coating line, Mitsubishi HiTec Paper Europe GmbH was looking for a state-of-the-art web inspection solution that delivered the best available results. It had to be solid, reliable, and able to detect every critical defect.
The company uses inspection systems from a number of suppliers in its plant, so has had the opportunity to observe the systems side-by-side over an extended period of time. The robust, solid performance of all the previous SmartView® systems installed in Bielefeld was a key factor.
Marco Saitta, Sales Account Manager at AMETEK Surface Vision, said: "Over the years, Mitsubishi assessed the best service and support to be delivered by AMETEK Surface Vision directly. They also found our inspection systems were the easiest to use and provided the most accurate results in terms of defect detection and classification."
The key areas of concern that had to be monitored on SM3 were coating voids and contaminations introduced during the coating process.
The capabilities of AMETEK Surface Vision's products to provide successful detection of these issues was proven by sample studies, using tailored optical configurations, performed prior to installation of the solution. In particular, UV lighting was applied to detect defects invisible to the naked eye.

The AMETEK Surface Vision solution
To provide the highest-quality solution for SM3, AMETEK Surface Vision supplied the company's SmartView® and SmartAdvisor® inspection systems, which offers a complete and integrated set of web inspection and web monitoring tools on the same machine.
AMETEK Surface Vision Quarterly Newsletter Autumn 2019
To receive this newsletter directly to your inbox register here.
AMETEK Surface Vision
AMETEK Surface Vision is the world leader in automated online surface inspection solutions. Our broad product range is optimized for the monitoring and inspection of webs and surfaces, and for process surveillance applications.
The SmartView and SmartAdvisor product lines deliver robust, flexible solutions to continuous production processes across a number of industries, with hundreds of customers and more than 2,000 installations worldwide.

Our systems have become vital to increasing efficiency, streamlining operations, improving product quality and reducing costs and waste in industrial processes.

We continue to innovate, providing cutting-edge technologies and world-class technical support that delivers highly accurate defect data, high-definition video, intelligent grading, archiving and detailed reporting.