New Aluminum Cold Mill Application Note
Featured Product from AMETEK Surface Vision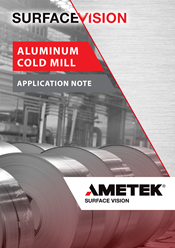 AMETEK Surface Vision's New Aluminum Cold Mill Application Note
AMETEK Surface Vision has released a new application note which discusses how effective quality control at the aluminum cold rolling stage can protect from claims and reduce costs throughout the production process.
Cold rolling is an important part of the manufacturing process for thin aluminum strip and sheet. The speed of the cold rolling mill and the hot, wet environment (which leads to steam) makes manual inspection very difficult, allowing control and inspection only at the beginning and end of the coil. However, these factors can also present challenges to an automated system.

AMETEK Surface Vision's SmartView® system provides an effective solution that overcomes the difficulties of the cold mill process to deliver reliable, highly sensitive defect inspection in real time, supported by streaming high-definition video that allows re-inspection without re-coiling.

Download the Aluminium Cold Mill Application Note
AMETEK Surface Vision Quarterly Newsletter Autumn 2019
To receive this newsletter directly to your inbox register here.
AMETEK Surface Vision
AMETEK Surface Vision is the world leader in automated online surface inspection solutions. Our broad product range is optimized for the monitoring and inspection of webs and surfaces, and for process surveillance applications.
The SmartView and SmartAdvisor product lines deliver robust, flexible solutions to continuous production processes across a number of industries, with hundreds of customers and more than 2,000 installations worldwide.

Our systems have become vital to increasing efficiency, streamlining operations, improving product quality and reducing costs and waste in industrial processes.

We continue to innovate, providing cutting-edge technologies and world-class technical support that delivers highly accurate defect data, high-definition video, intelligent grading, archiving and detailed reporting.