PLASTICS WEB INSPECTION AND MONITORING
Featured Product from AMETEK Surface Vision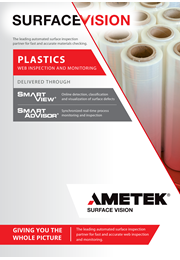 PLASTICS WEB INSPECTION AND MONITORING
Manufacturers of plastics are continually challenged to increase their product yields, improve quality standards and deliver a defect-free product to the customer while maintaining rapid production speeds. AMETEK Surface Vision helps the plastics market to meet these production challenges with fully integrated web inspection and monitoring solutions that boost efficiency and improve quality.
Surface Vision's industry-leading inspection and monitoring solutions provide the required quality and consistency by identifying typical material defects across a range of nonwoven production processes, even at the high-speed production volumes required to support the manufacture of single-use items.
Combining cutting-edge software and rugged, proven hardware, Surface Vision's SmartView® and SmartAdvisor® systems perform real-time detection and classification needed to identify nonwoven material defects. Uniting powerful web inspection and monitoring capabilities, imperfections are captured by a combination of synchronized high-resolution color camera technologies and LED lighting arrays, capturing high-quality defect images using multiple inspection angles.
The inspection data is processed through high-performance computer systems, integrating sophisticated software control tools and detailed real-time analysis into an easy-to-operate package. Real-time detection of critical nonwoven defects is achieved by automatically identifying and visualizing product imperfections and diagnosing the root cause of the imperfection.
A long-established surface inspection provider for the global
nonwovens
market,
Surface Vision's
extensive applications experience – particularly in lighting set-ups – ensures the manufacturers receive the most effective solution for each application. And, as all hardware is non-proprietary, AMETEK Surface Vision experts select the best-fit technology that is delivered, installed and commissioned by experienced service personnel.
As Surface Vision systems are completely modular in design, they can be expanded or upgraded whenever needed to meet changing customer requirements, such as those experienced currently.
The benefits are immediate: improved product quality, better productivity and maximized yields to ensure safety for frontline workers and a reduction in waste product.
JOIN THE CONVERSATION:
Welcome to our newsletter where we are pleased to announce our latest news, new application notes and case studies, event attendances and much more
To receive this newsletter directly to your inbox register here.
Training
Discover all the benefits and features of your system with hands-on learning. Our training packages will build technical proficiency, increase operations productivity, and maximize system uptime.
AMETEK Surface Vision
AMETEK Surface Vision is the world leader in automated online surface inspection solutions. Our broad product range is optimized for the monitoring and inspection of webs and surfaces, and for process surveillance applications.
The SmartView and SmartAdvisor product lines deliver robust, flexible solutions to continuous production processes across a number of industries, with hundreds of customers and more than 2,000 installations worldwide.

Our systems have become vital to increasing efficiency, streamlining operations, improving product quality and reducing costs and waste in industrial processes.

We continue to innovate, providing cutting-edge technologies and world-class technical support that delivers highly accurate defect data, high-definition video, intelligent grading, archiving and detailed reporting.