Never Again Series: Infrastructure
Featured Product from AMPP Resources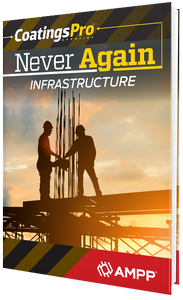 In this multi-author e-book, Never Again: Infrastructure, coatings experts recall days in the field when they were faced with a problem, such as premature coating failures, determined a cause, and developed a solution. Throughout the e-book, the SMEs share such insights as how one of the most often underestimated aspect of a project includes the amount of time required to adequately protect unpainted surfaces from damage during surface prep and coating applications.
The six chapters include case studies that include findings on topics such as how alkyd paints should never be used on steel that is intended for immersion service; how important it is to remember buildings such as coal-fired power plants have many different types of piping, structures, and other areas that operate at different temperatures, with many different functions; and how when evaluating peeling paint on structures such as pedestrian bridges, it is always a good idea to do some adhesion testing in areas that appear to be non-failing.
CoatingsPro Magazine is a bi-monthly magazine published by AMPP that serves as the leading resource for commercial and industrial coatings professionals. One of its most popular departments is "Never Again," which in every issue focuses on case studies about coatings failures, and how they were remedied.