Never Again Series: Marine Environment
Featured Product from AMPP Resources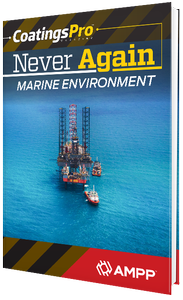 In this multi-author e-book, Never Again: Marine Environment, coatings experts recall days in the field when they were faced with a problem, such as premature coating failures, determined a cause, and developed a solution. Throughout the e-book, the SMEs share such insights as how often, in the hurry to accomplish work on schedule, conditions are overlooked that can be extremely detrimental to the final installed coating film, and it ultimately causes huge setbacks.
Chapters touch upon such topics as marine coating systems and antifouling topcoats, the loss of adhesion and delamination of ship coatings, the failure of a separator onboard a FPSO, and even the importance of not painting a structure during a windstorm!
CoatingsPro Magazine is a bi-monthly magazine published by AMPP that serves as the leading resource for commercial and industrial coatings professionals. One of its most popular departments is "Never Again," which in every issue focuses on case studies about coatings failures, and how they were remedied.