EDAC Aero Rotating Components
Product Announcement from APEX Machine Tool Company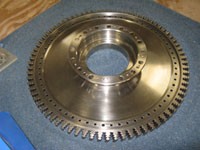 EDAC Aero Rotating Components' manufacturing division has been an industry benchmark in precision metalworking. The company combines extensive experience, unequalled capabilities and single-minded dedication to quality to fulfill any customer need. We are comfortable in satisfying customer demands from individual prototypes, small to moderate runs and high volume production.
EDAC Aero Rotating Components has built a flawless reputation among the world's leading engine manufacturers and has deservedly earned its role as a key participant in all of the world's most important military and commercial engine programs. EDAC Aero Rotating Components confirms its continuing commitment to service and its dedication to the goal of 100% quality - perfect parts, on time.
The prerequisite for success in a business that moves at warp speed is to anticipate the answers to questions before they are asked - to find solutions to problems before they arise. Investment in state-of-the-art technologies combined with ongoing training programs for the employees keep EDAC Aero Rotating Components well positioned to remain ahead of the curve.
Products:
Disks from 6 to 60 " in diameter
Shafts from 20 to 40" in length
Hubs
Seals
IBR/Blisks from 10 to 40" in diameter
Fan Disks
LPC Disks
HPC Disks
HPT Disks
LPT Disks
Fan "Stub" Shafts
HPC Shafts
HPT Shafts
HPC Seals
HPT Seals
Space Shuttle Engine Components
For more information on EDAC Aero Rotating Components, click here.
---