Industry's Most Skilled Toolmakers and Machinists
Service Detail from APEX Machine Tool Company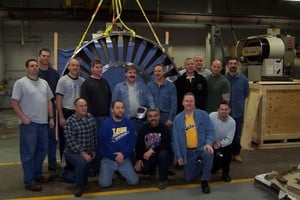 About Apex Machine Tool Co.
Apex Machine Tool Company, Inc., located in the Farmington Industrial Park, Farmington, CT, was founded in 1944. Today we occupy a modern 44,000 square foot, climate-controlled facility. Fully staffed to meet your needs, Apex is acknowledged as one of the finest and largest design and manufacturing shops in the United States. We specialize in design and/or manufacture of highly sophisticated fixtures, precision gages, close tolerance plastic injection molds, precision component molds for composite parts and specialized machinery.
A unique combination of the industry's most skilled toolmakers and machinists and leading edge technology has enabled Apex to provide exacting quality to customers who require tolerances to +/- .0001 in.. Consequently, we supply a diverse clientele with the most complex and most accurately manufactured prototype and production tools, molds, component parts, composite tooling, and gages available today.
---