APM HEXSEAL Patented IQ Switch Sealing Boot
Featured Product from APM Hexseal Corp.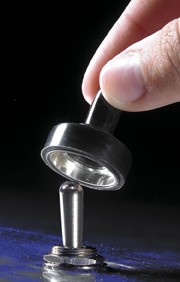 APM offers patented higher intelligence with lasting integrity products
The APM HEXSEAL Patented IQ Switch Sealing Boot is designed for applications where it is preferable to retain the original switch's front-panel mounting nut. This version is made possible by the incorporation of a newly designed bonded concentric mounting nut that features an internal cavity configuration allowing the integral CONCENTRO-NUT to sit on and wrap itself around the existing original switch front panel nut. This enables the two nuts to work in concert when tightened. The IQ Switch Sealing Boot mounting design permits an easy and speedy retrofit, or new OEM installation.