Half & Open Toggle Switch Boots
Featured Product from APM Hexseal Corp.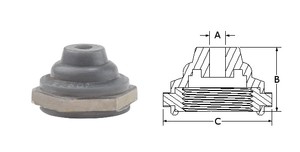 Half-Toggle Boot with patented inverted bellows design for use with sensitive switches. Avoid unintentionally tripping a sensitive breaker/switch into the on/off position by attaching the patented APM Hexseal 1131/60 or 1132/60 inverted bellows toggle switch boot. There is an increasing number of breaker/switches that when covered with an environmental sealing switch cover can trip the breaker/switch into the off/on position due to the mere physics of being covered by the wrong type of cover. Our "Ultra Flex Series" with a bellows design incorporated therein is very able to combat this problem!
The Ultra Flex is designed to provide very little or no resistance to the actuator that would cause the breaker to trip.
It still provides a UL recognized sealing performance that meets the NEMA 4, 4X/IP68 sealing standards.
APM HEXSEAL patented the original circuit breaker environmental sealing breaker cover and associated electromechanical switch sealing boots 65 years ago and continues to do so today.
APM's mission is to provide complete sealing solutions resulting in total customer satisfaction. The world continues to evolve technologically, and APM continues to resolve sealing problems for industry and the military.