High Temperature Self Sealing Nuts - Up to 20,000 psig and 400 F
Featured Product from APM Hexseal Corp.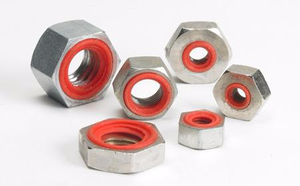 Seelnuts install just like conventional nuts, and are designed for use with ordinary screws, bolts and studs, making them a quick and easy sealing option for all sorts of applications, especially where there is a need to withstand high internal or external pressures.
Our Seelnuts are made from high quality rubber, molded into a specially shaped cavity in the nut itself. With threads molded directly into the rubber, these self-sealing nuts form a positive seal along the threaded section of the Seelnut, as well as with the contact surface, removing the need for gaskets, sealing compounds or extra surface preparation. The single piece design makes for a more consistent and reliable seal, resulting in a significant savings of time and expense, and contributing to overall performance efficiency.
APM Hexseal's Seelnuts are also reusable, meaning that they can be easily removed and reapplied, reestablishing the same reliable seal when torqued.
Our Seelnuts are available in all standard thread sizes as well as a variety of different elastomers to suit your application needs. Seelnuts can also be supplied with self-locking pellets for applications where excessive vibration is an issue.

MATERIAL SPECIFICATIONS
Nut Material: Low Carbon Steel with Zinc-Chromate Plating
Threads: Imperial- Class 2B ‡; Metric- Class 6H
Elastomer: Silicone conforms to A-A-59588, Class 3A, GR60, Red
Temperature Range: -103° F to 400° F ( -75° C to 204° C)
Pressure Range: Up to 20,000 psig internal and external (subject to clearance hole dimensions)
Resistant to: Splash, salt spray, sunlight, ozone, weather, fungus, dust, and most acids and lubricating oils
Shelf Life: Excess of 25 years