High-pressure self-sealing SEELSKREWS
Featured Product from APM Hexseal Corp.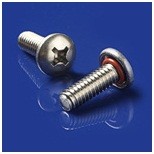 Did you know?
The use of LEDs is finding its way into a myriad of harsh environments for both indoor and outdoor electrical lighting applications. For example, one leading outdoor lamp fixture company has successfully developed an outdoor ceiling mounted fixture incorporating numerous LEDs per fixture with day and night power output requirements controlled by micro circuits.
These sealed enclosures were installed in an exceptionally long automobile tunnel. Typical of all tunnels of this kind, a great deal of corrosive, penetrating concrete dust is formed over time. To assure that the dust does not reach the LED fixture's internal control circuit or coat the LED's lens, it is imperative that the LED fixture be reliably sealed to operate for 15 years of continuous service without maintenance. To meet this requirement, APM Hexseal's high-pressure self-sealing SEELSKREWS were chosen and installed around the LED fixture's perimeter. APM products perform in even the harshest environments.