Sealing Boots for Toggle Switches
Featured Product from APM Hexseal Corp.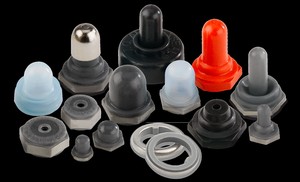 APM Hexseal's Sealing Boots and Bushing Seals provide strong protection for both the external and internal workings of a device, ensuring the safety, reliability and overall function of the system as a whole. APM Hexseal's Sealing Boots and Bushing Seals are available in a variety of styles and install easily over the vast majority of standard electro-mechanical switches and devices on the market.
The majority of APM Hexseal toggle boots are a single piece design, molded from silicone over a threaded mounting nut. Our designs include fully enclosed toggle boots that cover the entirety of a switch, as well as half boots that leave a portion of the toggle bat exposed. No matter the variation, all APM Hexseal designs include our signature sealing rib that ensures a secure seal with the mounting panel, and are extremely effective toggle switch sealing solutions.