Sealing Washers to Plug Knockout Holes
Featured Product from APM Hexseal Corp.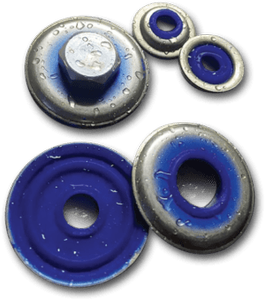 UL Recognized (UL Type 4X/6 enclosures) and IP66/68 rated, Seeloc Washers provide a high-performance, air- and liquid-tight seal that is ideal for applications where spray, vapors or wash-downs are present, or where there is a concern of damage from a wide range of contaminants, such as dust, oils and salt build-up.
In addition to conventional mounting holes, Seeloc Washers can be used over extra-large holes, or even oddly shaped adjustment slots. They also make an excellent "plug" for sealing optional knockout holes in control boxes or electrical cabinets. Their reusability make them perfect for applications that might require periodic maintenance or adjustments.
APM Hexseal is now introducing our newly developed Heavy Duty Seeloc® Washers, capable of handling torque values AT LEAST 50% hgher than our original Seeloc Washers. Currently available in both 1/2" (14mm) and 1" (25.4mm) O.D. sizes, these new sealing washers are perfect for a myriad of sealing requirements