New ElectroStatic Seasoning Application Systems
Product Announcement from ARBO Engineering, Inc.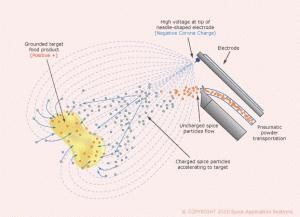 It's unique harnessing of the power of electrostatics and its equipment can be retrofitted onto existing production lines or purchased as a complete new unit. The technique works by applying a static charge to the power, oil or slurry as it is being sprayed on the base product, such as snacks, chewing gum or tablets. As the flavoring and coatings become "negatively" charge, they adhere automatically to the "positive" base product, creating a true wraparound effect. The system provides point accuracy for applications and depending on the quantities of products manufactured. Arbo and SAS estimates companies will see a return on investment around four months in terms of savings alone--mainly through less waste and greater energy efficiency. Not only does the process dramatically cut excess use of expensive powders, oil and slurry, but it vastly improves product coverage and consistency.
---