Absorber for Automotive Radar Sensors
Product Announcement from ARC Technologies, Inc.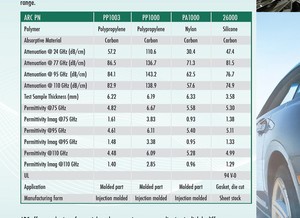 Automotive systems designers encounter unique problems with the development and deployment of high frequency radar systems in vehicles. Chief among these are
cavity resonances within metal enclosures
coupling between transmit and receive antennas
reflections caused by adjacent metal structures on the vehicle
focus of the antenna pattern
Resolution of these problems can be a complex task that may include circuit and antenna layout, enclosure design compromises, range and pattern concessions and placement within the vehicle.
A sensible solution is the selection of high frequency radar absorbing materials suitable for the automotive environment.
In addressing the needs of automotive radar designers ARC Technologies has drawn upon its 25 years of experience as the leading supplier of radar absorbing materials for military, aviation, marine and commercial applications to design solutions that can be technically advanced, cost effective, lightweight and durable.
Material selection is critical to the resolution of radar resonance and interference issues. The ARC R&D team of physicists, metallurgists, chemists as well as thermoplastics and material engineers has created an assortment of optimal materials which can be formulated, molded or otherwise fabricated to best suit the application.
ARC tested a large number of materials at various frequencies and selected 4 materials that would work in the "K" and "W" bands.
L-band
2-18GHz
"K" 18-40GHz
"W" 75-110GHz
ARC Technologies tested the materials with a WR-42 Waveguide in the "K" 18-26.5 GHz band, and used a focused beam system with a broadband dielectric lens to test the material samples in the "W" 75-110GHz band. Materials were tested in two orientations (90deg apart) and the results were averaged.
---