Proven Bellows Sealed Valves
Featured Product from ARI Valve Corporation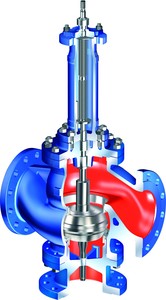 ARI Valve Corporation focuses on the difficult services such as thermal fluids and industrial chemicals. If you cannot afford a leak, you can depend upon the proven bellows valve from ARI.
MAINTENANCE FREE BELLOWS SEALED VALVES FOR HIGH TEMPERATURES ANSI AND DIN (METRIC) SPECIFICATIONS FLANGED, SOCKET WELD, BUTT WELD, OR THREADED CONNECTIONS.
ARI Case History: Extremely Low Maintenance Bellows-Sealed Valves Are for the Long Run (Click to Download)

ARI Valve Corporation
HIGH QUALITY PRODUCTS FOR A WIDE RANGE APPLICATIONS
We specialize in thermal heat transfer fluid (hot oil) valves, known in the ARI-Armaturen family as the FABA product line. These are commonly found anywhere heat transfer is required whether for the manufacture of engineered wood, chemicals, automobiles, coatings, fibers and non-woven textiles, asphalt, industrial cooking, and a host of other industries. Other ARI-Armaturen products are found in similar applications and industries, and we can assist you with these as well.