Stop Valve with bellows seal. Maintenance-free.
Featured Product from ARI Valve Corporation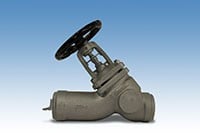 ARI-FABA® Plus Stop Valves, Y-Pattern- PN 25 Bar with Butt Weld Ends
Stop Valve with bellows seal. Maintenance-free.
Globe Valve with butt-weld ends
DIN-DVGW-registration
Test approvals TU.A/TUV.AR 186-00
TRB 801 No. 45
Double wall bellow seal as standard
Size 1/2 inch - 3 inch spindle with fine thread as standard
Lubricating nipple as locking device as standard
Spindle with bellows seal
Secondary sealing; gland packing
Position indicator as standard
Non-rising handwheel
Non-rotation lock for each nominal diameter
External spindle thread
Spindle with rolled
Bellows Seal Valves
The ARI "FABA" is reliably sealed, even under the most adverse conditions. The bellows-type valve is maintenance-free and like all ARI valves - is classed leak rate 1 in accordance with DIN 3230T3.
Features:
Cast steel to ANSI 300 - 1/2 to 12 inches
Straight-through or Y-pattern design
Easy operating handwheel with safe operation at all working temperatures
Energy-saving dome of chrome nickel steel with air cushion between dome and housing
Bellows of chrome-nickel steel
Internals (stem, disk and seat of stainless steel)
High Quality Products for a Wide Range Applications
ARI products are in service around the globe. Whether it is manufacturing cars, ships, chemicals, food processing or heating technology. You will find ARI where any fluid, liquid, gas or vapor needs to be isolated, secured or regulated. As a perennial member of more than 30 representatives on all continents around the globe, we can provide you with the advantages of a reliable partnership - wherever you are.