Y-Pattern Strainer with Flanges
Featured Product from ARI Valve Corporation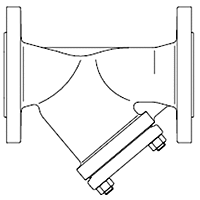 ARI Strainer Y-Pattern with Flanges
Made of Cast Iron, Spheroidal Graphite Iron and Cast Steel.
Features:
TRB 801 No. 45 (not applicable for cast iron)
Screen and supporting basket made of stainless steel
Screen from DN 2 inch with reinforced ring
Screen from DN 2 inch with supporting basket
Precise guidance of screen in cover and body
Strainers/Check Valves
This is unit can be used in powerstations, flue gas purification plant, processing technology, gas supply, vapour facilities, thermal oil applications, recycling facilities, vacuum facilities, ammonia, hot water, heating technology, district heating, cooling and freezing systems, general plant manufacturing, steam systems Steam, gases, liquids, etc.
High Quality Products for a Wide Range Applications
ARI products are in service around the globe. Whether it is manufacturing cars, ships, chemicals, food processing or heating technology. You will find ARI where any fluid, liquid, gas or vapor needs to be isolated, secured or regulated. As a perennial member of more than 30 representatives on all continents around the globe, we can provide you with the advantages of a reliable partnership - wherever you are.