ARM DS-5 Development Studio
Product Announcement from ARM Inc.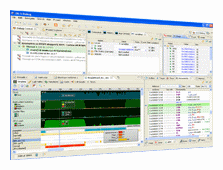 ARM® DS-5 Development Studio is an end-to-end tools solution for embedded software development, especially crafted by ARM to enable you to develop robust, highly optimized products based on ARM processors. Whether you are a system-on-chip (SoC) designer, a real-time firmware engineer or an Android app developer, DS-5 helps you to take full advantage of the leading edge technologies in the ARM architecture.
Features:
START SOFTWARE DEVELOPMENT EARLIER
DS-5 is developed alongside new ARM processors so that you can have quality development tools available when you need them. Supporting the lastest ARMv8 64-bit instruction set or handling debug and optimization on multi-cluster ARM big.LITTLE™ SoCs are just a couple of examples of our technology leadership. Moreover, DS-5 can be used in conjunction with ARM virtual platforms to give you a head start by enabling you to develop software way ahead of hardware availability. DS-5 ships with an example quad-core Cortex®-A9 FVP and Cortex-A8 FVP to use in your development.
GET MORE OUT OF YOUR SYSTEM
Whether you are after longer battery life, higher performance or smaller code size, DS-5 has got the right tool for you to optimize your system. The 5th generation of the ARM Compiler, shipping in DS-5 Professional is the result of over 20 years of improvements in code generation. The Streamline analyzer has been specifically engineered to help you tune software for optimal power and/or performance, making critical system issues, such as misconfiguring processor's voltage and frequency scaling, just too obvious to miss.
SHRINK TIME TO MARKET
With software accounting for the largest portion of time and costs in modern embedded projects, even small productivity gains quickly add up and can turn an average project into a successful one. DS-5 dramatically reduces software development time by providing user friendly, flexible interfaces together with productivity-boosting features such as execution trace and Application Rewind. Combined with comprehensive documentation and unparalleled technical support expertise, DS-5 has all you need to go to market first.
LOWER YOUR PROJECT RISK
Reduce risk in your engineering program by choosing a financially solid, market proven tools provider that can support your current and future design needs. Our customers have shipped billions of products running code developed using ARM tools to date. Be part of the winning team.
WRITE, COMPILE, DEBUG AND OPTIMIZE YOUR SOFTWARE WITH DS-5
---