MCB1700 Evaluation Board
Product Announcement from ARM Inc.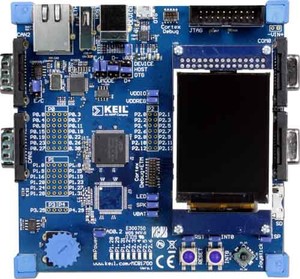 The MCB1700 Evaluation Board is available in two different configurations:
Components Included
The MCB1700 Evaluation Board includes the following:
System Requirements
Starter Kit
The following MCB1700 Starter Kits (which include a ULINK-ME USB-JTAG Adapter) are available:
Evaluation Software
The MCB1700 Evaluation Board and Starter Kit include MDK-ARM Evaluation Tools. These tools help you get started writing programs and testing the microcontroller and its capabilities. Sample applications which run on the MCB1700 are included.
---