501 Series Panel Mount Adapter Plate
Featured Product from ASCO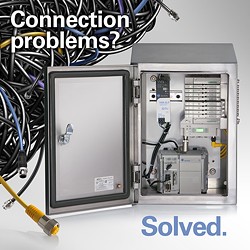 "The 501 Series panel mount adapter plate fulfills our customers needs for space savings, easy panel construction and assembly." said Robert W. Kemple, Jr., executive vice president, sales and marketing - Americas, ASCO Numatics. "It eliminates the need for complex tubing routing and bulkhead fittings, reduces custom machining and drilling and simplifies panel layout."
The mounting plate adapter allows original equipment manufacturers (OEMs) and end users to directly connect the 501 Series valve manifold to a panel in the wall or floor of a cabinet. All panel strength, integrity and certifications are maintained. The panel mount adapter plate is ideal for applications in the process industries where directional control valves are installed in a cabinet due to environmental or packaging constraints. These applications include food and beverage, pharmaceutical and packaging machinery, plus general machine automation.
"The 501 Series valve provides the flow of a 15 mm to 20 mm valve in a compact 11 mm size, offering a distinct advantage to the OEM engineer designing panels where space is at a premium." said Kemple.
Additional customer benefits include:
Minimized leaks and air loss
Lower labor cost of assembling and installing custom tubes, fittings and connections
Cabinet size reduction
Better equipment aesthetics
Simplified maintenance and troubleshooting
The 501 Series has a unique shut-off configuration that allows for easy isolation (hot swapping) and replacement of a valve without disrupting operations. It comes in three sizes - for 8, 12 and 16 valves - and is available in stainless steel and anodized aluminum.
The panel mount adapter plate is available through Numatics distributors and sales representatives. For more information, contact Numatics at 1-888-NUMATICS (686-2842), by e-mail at insidesales@numatics.com, or visit www.numatics.com.
About ASCO Numatics
ASCO Numatics, an Emerson company, offers comprehensive fluid automation solutions, including fluid control and fluid power products, for a wide range of industry-focused applications. The ASCO Numatics product line in North America consists of more than 50,000 valves, an extensive selection of air preparation equipment and a full line of actuation products. ASCO products include solenoid pilot valves, angle body piston valves, linear indicators, redundant control systems and pressure sensors. The Numatics line covers valve manifolds, cylinders, grippers, filters, regulators and lubricators. For more information about ASCO Numatics products, visit www.asconumatics.com.
About Emerson
Emerson (NYSE: EMR), based in St. Louis, Missouri (USA), is a global leader in bringing technology and engineering together to provide innovative solutions for customers in industrial, commercial and consumer markets around the world. The company is comprised of five business segments: Process Management, Industrial Automation, Network Power, Climate Technologies and Commercial & Residential Solutions. Sales in fiscal 2014 were $24.5 billion. Emerson Industrial Automation (www.EmersonIndustrial.com), a business of Emerson, provides automation and power generation technologies and services to a wide range of industries. With its global capabilities and deep industry expertise, Emerson Industrial Automation is a trusted partner for products and solutions that increase machine performance, efficiency, reliability and availability. Its industry-leading brands include Appleton®, ASCO®, Branson®, Browning®, Control Techniques, Kop-Flex®, Leroy-Somer®, McGill®, Morse®, Numatics®, O-Z/Gedney, Rollway®, SealMaster® and System Plast™.