ASCO Expands Two-Way Direct Product Offering
Product Announcement from ASCO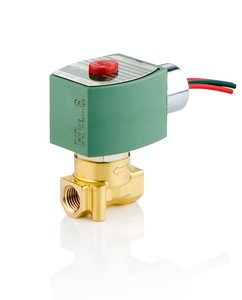 FLORHAM PARK, NEW JERSEY, October 27, 2011-ASCO Numatics, the world's leading manufacturer of comprehensive fluid automation, flow control, and pneumatics solutions, has introduced the 8262/8263 Series two-way direct acting normally open solenoid valves with increased AC and DC pressure ratings and real-time online ordering. The two-way valves are ideal for applications in industrial and agricultural machinery, food products machinery, laundry and dishwashing appliances, and medical and analytical instruments.

This series is engineered with higher pressure ratings for AC and DC operation that enable original equipment manufacturers to achieve increased performance from their products. In addition, most of the 8262/8263 Series valves are available through the ASCO Today same-day shipping program.

The 8262/8263 Series Normally Open valves come in brass and stainless steel constructions with 1/8-inch, 1/4 inch, and 3/8-inch pipe sizes and are used to control the flow of air, water, light oil, and specialty media such as vacuum, ammonia, and oxygen.
---