ASCO NextGen Valve Receives Class I Div 2 Approval
Product Announcement from ASCO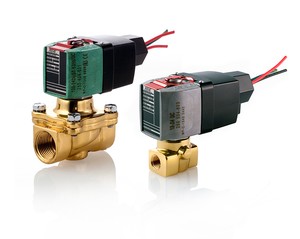 The ASCO RedHat Next Generation line of solenoid valves is now available with Class I, Division 2 approval. The certification makes the valves ideal for use in hazardous locations and for watertight applications.
"With its robust electronics and exceptional reliability, earning Class I, Division 2 approval was the logical next step for the RedHat Next Generation family of valves," said Bill Reeson, Senior Marketing Manager, ASCO.
In addition, the valves meet all NEMA Types 1 through 4X requirements for water-tight and dust-tight operation. "These valves are ideal for indoor or outdoor use where protection is required against splashing water, water seepage, falling or hose-directed water, and severe external condensation," said Reeson.
The RedHat Next Generation Valve line sets new industry standards for reliability and power consumption. ASCO successfully completed rigorous qualification and environmental stress tests, simulating over 8 years of service.
With new power management technology and robust advanced electronics, the valve accepts both AC and DC voltages while improving performance. Its 2-watt power consumption achieves the same performance as a 17-watt AC solenoid valve. DC performance has been increased by 150% to 500% from today's industry standards, making the valves' DC characteristics equivalent to AC pressure and flow values.
"The valve's unique capability to accept both AC and DC power without losing functionality or performance makes it attractive for use across a large number of applications," said Reeson. "One version of the valve can be used throughout a plant or across a global manufacturing network to minimize inventory."
The valves are offered in three voltage ranges covering most electrical requirements – 100-240/AC or DC, 24-99/AC or DC, or 12-24/DC and include 2-, 3-, and 4-way models for use in most fluid control applications.
---