Stainless Steel Pilot Valves Offshore Applications
Product Announcement from ASCO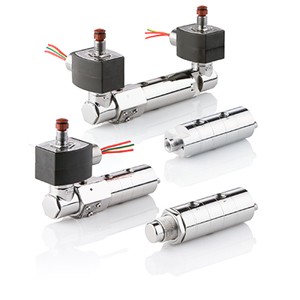 FLORHAM PARK, NEW JERSEY, U.S.A., August 9, 2011- ASCO Numatics, the world's leading manufacturer of comprehensive fluid automation, flow control, and pneumatics solutions, has introduced the 8361 series of stainless steel pilot valves. The series' unique design eliminates the dormancy or "sticking" problems that can occur in control valves installed in the pneumatic logic panels that control monitoring safety systems in offshore oil and gas production facilities. In addition, the valve line was launched with online tools that permit rapid product configuration and ordering.
"Corrosion-resistance and reliability are essential for safe operation in harsh offshore environments," said Robert W. Kemple, Jr., Executive Vice President, Sales and Marketing - Americas, ASCO Numatics. "The 8361 series' innovative, highly reliable and proven T-seal technology resists the dormancy issues that plague current valves using O-ring seals. O-ring designs can stick upon actuation in low-demand control valve applications. Our research shows that many users routinely hammer the sides of these valves to ensure they function properly," said Kemple.
The 8361 series (¼-inch, 3-way and 316L stainless steel) valves are offered in manually operated, air piloted, and solenoid piloted versions and can be configured as breathing and non breathing. The non breathing version isolates internal components from the atmosphere and is internally vented, preventing contaminants such as salt and dust to enter the valve and corrode internal components.
The valve's balanced design maintains the same flow characteristics when the valve is used in a normally open or normally closed configuration. This provides symmetrical flow that enables more flexible setup of the control panel's pneumatic logic. The 1.4 Cv provides almost double the flow of comparable spool technology. In addition, the valve's innovative pilot-selector design allows the same unit to be used as an internally or externally piloted solenoid valve, simplifying ordering and reducing inventory.
"Every aspect of this valve has been designed for the highest reliability, minimal maintenance, and lowest cost of ownership," said Kemple. "For example, the valve's body is made entirely in 316L stainless steel, and the elgiloy and stainless steel springs are designed for corrosion resistance and severe service beyond 1 million cycles."
Online Tools Enables Rapid Configuration and Ordering
An 8361 Series online toolset is available that allows customers to quickly build a valve that meets a set of specific requirements. It then displays the list price, availability, 3D CAD drawings, and specifications for the configured product. The 8361 configurator generates an order code for the valve that permits an immediate online purchase, plus greatly simplifies the reordering process.
ASCO 8361 Series valves can be purchased from ASCO distributors or directly from the company. Most of the valve's configurations are available through the ASCO 5-day shipping program.
For more information, contact ASCO at 800-972-ASCO, by e-mail at info-valve@asco.com, or visit www.ascovalve.com/Offshore
---