The AX-03 Robot Package
Featured Product from ASG, Division of Jergens, Inc.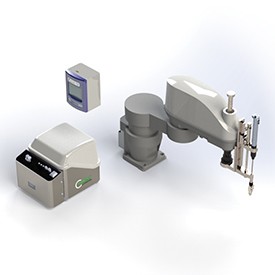 Includes: Robot, Integrated Auto Feed, and Drive Tool
The AX-03 robot package is designed with the sophisticated end user and systems integrator in mind. The package comes complete with fully integrated ASG Auto Feed screw feeding system and driver. The package is pre-assembled, programmed, and tested prior to shipment; allowing it to be up and running and driving screws in a matter of minutes.
The AX-03 packaged components are:
Choice of Driver: ASG X-PAQ™ SD2500, X-PAQ™ EH2, or Fiam® driver
ASG Integrated Auto Feed screw feeding system with 1L or 3L bowl size
Choice of robot type
Single or dual stroke pneumatic slide for screw placement
Controls Options:

On-board Robot PLC
Standard controls package is Allen Bradley, other manufacturers available upon request