Large Angle Grinders
Featured Product from ATA Group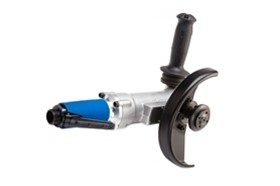 For heavy duty applications requiring fast stock removal, our industrial angle grinders are suited best. Built with a high power air motor, our range of angle grinders are designed to drive grinding. Common applications are weld prep and dressing, edge preparations, post weld finishing and flash removal on castings or forgings.
Thanks to their high power air motor, these angle grinders are ideal for heavy applications. Equipped with a dynamic auto-balancer, an ergonomic side handle and a specific exhaust, these angle grinders operate at reduced vibration and noise levels.
Key Markets include Shipyards and Metal Fabrication for chamfering, weld preparation, weld dressing and flash removal.