ATS Cortex Vision™
Product Announcement from ATS Automation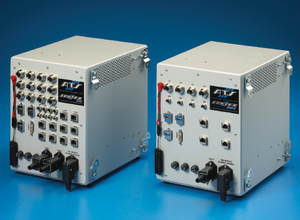 An Integrated Hardware/Software Vision System
The Cortex system is an all-in-one vision device running ATS SmartVision™ software. The system is designed to reduce your integration time by providing an integrated vision solution that comes complete with standardized hardware and software. The system interfaces with a Programmable Logic Controller (PLC) through the use of a wide variety of field bus interfaces.
The Cortex system is equipped with discrete I/O connectors that are used to trigger the attached cameras and lights. The I/O Ports are programmable and can be used to trigger any combination of camera devices.
The USB connectors are standard USB 2.0 plug and play connectors. These connectors are used for the integrated backup device and other peripherals such as a keyboard and mouse.
Currently two models are available: ATS Cortex 812 system and ATS Cortex 204 system. The ATS Cortex 812 system supports up to eight cameras and twelve lights while the ATS Cortex 204 system supports up to two cameras and four lights.
ATS Vision Cortex Enclosure
The ATS Cortex system is a family of vision enclosures.
The ATS Cortex system is designed for use with Opteon Ethernet cameras. It provides camera power over the Ethernet cable known as Power Over Ethernet (PoE). The ATS Cortex is powered by 100-240VAC with a maximum current draw of 8A. The light outputs are provided with pins for +5V, +12V and +24V lighting. Cameras can be triggered using hardware I/O lines or in software over Ethernet.
The ATS Cortex system uses ATS SmartVision software as its integrated vision development platform.

---