ATS SmartVision™ Software
Product Announcement from ATS Automation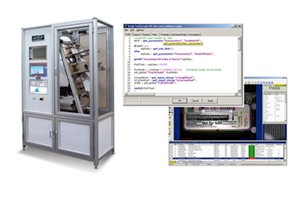 ATS SmartVision software represents a significant breakthrough in cost-effectiveness, connectivity, and customization in vision systems. ATS SmartVision software is a highly scalable PC-based vision system that combines a high-performance, platform-independent vision engine with an easy-to-use standard interface.
Using programmable software logic, ATS SmartVision software can control virtually any industry-standard third-party camera and lighting system to perform high-precision part and defect identification, measurement, sorting, and robotic guidance. Over 3,000 ATS SmartVision licenses are in use around the world.
Scalable Across Application Types and Levels of Complexity
The ATS SmartVision engine can control multiple cameras in a single application to perform numerous independent sequences comprised of ordered lists of steps. Each step contains one ATS SmartVision software tool. Sequences can be single-stepped for debugging.
Results can range from a simple pass/fail condition to the more involved precise position of objects for complex applications. These results can then be used by other steps in the application. Programmable flow control provides for simple branching within sequences.
Powerful Toolkit
A complete set of modern vision tools is provided, including edge finding, blob analysis, measurement, OCR, barcode reading, scripting and image processing tools. Tools are dragged and dropped into an inspection sequence and are easily configured using simple dialog boxes. In addition, ATS SmartVision software has the capability of integrating third party vision tools for specific applications. Several third party tools are available and more are added as required.
Rapid Application Development
ATS SmartVision software provides a rapid application development platform for machine vision applications. Many applications can be developed with no traditional programming required.
For highly complex applications, a scripting tool is provided to allow programming logic to be created without the need for a compiler or any other external development environment. For the most sophisticated users, ATS SmartVision software can be embedded into a traditional software to create custom interfaces. ATS SmartVision software also leverages leading open source software.
Strong Communications Infrastructure
ATS SmartVision software takes advantage of advanced communications protocols making integration faster and easier for standardization across your organization.
Remote Configuration and Troubleshooting
A TCP/IP link can be used to create and modify inspection sequences. As a result, the support and troubleshooting of vision applications can be deployed remotely from anywhere around the world.
Benefits

Extensive and powerful vision toolkit
Rapid application development
Highly scalable range of applications
Remote configuration over TCP/IP
Strong integrated communications
Competitively priced
Proven in a wide range of industrial environments
Hardware independant
Easy to learn
Standard or custom GUI interfaces
Flexible local and remote image viewing
Multiple Language Support (English, French, German, Simplified Chinese)
---