Flanged Rotameter ....Industrial
Product Announcement from Aalborg Instruments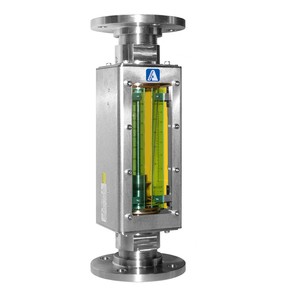 Aalborg®'s expanded M Meter line includes the Flanged M Style Industrial Rotameter. Its seamless, brushed Stainless Steel body distinguishes itself from other OEM models. The result is safe, armored construction preferred for industrial applications performed under harsh conditions.
This heavy-duty Flanged Flow Meter, ideal for flow rates up to 116 GMP/440 L/min and 250 SCFM/ 7080 L/min, is used with industrial air and water service.
Aalborg®'s Flanged M Style Meters are graduated for direct reading. Models are equipped with Flanged end fittings for easy in-line installation. Wetted parts include borosilicate glass tubes, Viton® O-rings, and 316 Stainless Steel fittings, guide rods, floats, and float stops.
For the Flanged M Style Rotameter's Specifications and Materials of Construction, visit Aalborg®'s online catalog.
Visit Aalborg®'s online catalog. www.aalborg.com Call 1-800-529-4180 or 1-845-770-3000.
(German:
---