Mass Flow Controller...flow rates of gases
Product Announcement from Aalborg Instruments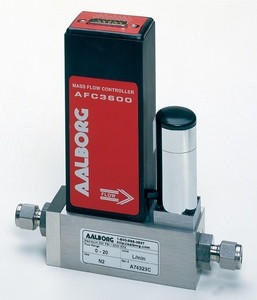 Aalborg®'s An Mass Flow Controller's combined gas streams flow through a proportionating electromagnetic valve with an appropriately selected orifice. The closed loop control circuit continually monitors the mass flow output and maintains it at the set flow rate.
Flow rates are unaffected by temperature and pressure variations within stated limitations. AFC Mass Flow Controllers include an electromagnetic control valve that allows the flow to be set to any desired flow rate within the range of the particular model. The valve is normally closed as a safety feature to ensure that gas flow is shut off in case of a power outage.
AFC Mass Flow Controllers, designed to meter and control flow rates of gases, are available with flow ranges from 10 sccm to 100 slpm [N2]. Gases are connected by means of 1/4", 3/8", or optional 1/8"compression fittings. Controllers may be used as benchtop units or mounted by means of screws in the base. Transducer power supply ports are fuse and polarity protected.
Design Features Include:
Leak Integrity 1 x 10-9 smL/sec of helium.
Rigid metallic construction.
Accuracy of ±1% full scale.
Totalizer option.
Circuit protection.
0-5 Vdc or 4-20mA signals.
Visit Aalborg®'s online catalog. Contact: www.aalborg.com Call 1-800-529-4180 or 1-845-770-3000.
---