Thermal Mass Flow Meter...digital signal
Product Announcement from Aalborg Instruments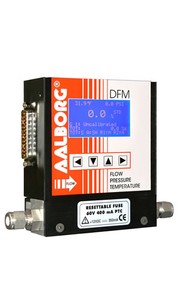 Aalborg - All features of the flow meter can be accessed via the local four button keypad and LCD. The digital interface operates via RS485 (optional RS-232 available) and provides access to applicable internal data including: flow, temperature, pressure reading, auto zero, totalizer and alarms settings, gas table, conversion factors and engineering units selection, dynamic response compensation and linearization table adjustment.

The analog interface provides 0 to 5Vdc or 0 to 10Vdc or 4 to 20 mA outputs for flow, pressure and temperature (jumper selectable).

Auto Zero
The DFM supports automatic sensor zero offset adjustment which can be activated locally via keypad or remotely via digital interface. The auto zero feature requires absolutely no flow through the meter during auto zero process. Provisions are made to either start, stop or save the current auto zero value via digital commands.

Totalizer
The total volume of the gas is calculated by integrating the actual gas flow rate with respect to time. Both keypad menu and digital interface commands are provided to:
set the totalizer to ZERO
start the totalizer at a preset flow
assign action at a preset total volume
start/stop totalizing the flow
read totalizer
Totalizer conditions become true, when the totalizer reading and the "Stop at Total" volumes are equal.

Flow Alarm
High and Low gas flow ALARM limits can be preprogrammed via keypad or remotely via digital interface
Visit Aalborg®'s online catalog. www.aalborg.com Call 1-800-529-4180 or 1-845-770-3000.
---