Rotameter... high purity applications
Product Announcement from Aalborg Instruments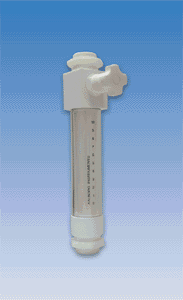 Aalborg®'s Model F In-Line Single Tube Rotameter, made entirely of PTFE, PFA, and PCTFE, excels for high-purity applications or for use with corrosive liquids. Low Range and High Range F Style Models are individually tested on a Mass Spectrometer Leak Detector and certified.
Design Features Include:
Chemically inert wetted components.
Removable protective shield.
Individual leak testing.
Specifications:
Scales- 0 to 10 markings.
Accuracy- ±5% of full scale.
Maximum Temperature- 250°F (121ºC)
maximum Pressure- 100 psig (6.7 bars).
Leak Integrity- Individually leak-tested and certified to a rating of 10-7sccs of Helium.
Units are available with a standard valve to monitor and control flow or without a valve to just monitor flow.
Materials of Construction:
Tube Shields- Polycarbonate
Flow Tubes- PTFE, PFA.
Floats- PTFE.
Wetted Parts- PTFE and fittings. PCTFE guide rods.
Dimensions:
Low Range Models- 511/16" Length x 1¼" O.D.
High Range Models- 10½" Length x 2" O.D.
Visit Aalborg®'s online catalog. Contact: www.aalborg.com Call 1-800-529-4180 or 1-845-770-3000.
---