Mass Flow Meter...measures gas flow rates
Product Announcement from Aalborg Instruments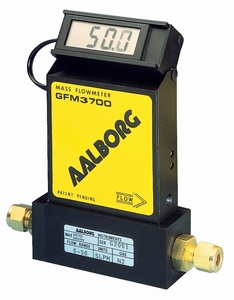 Aalborg's - The enhanced low cost Model GFM, a self-contained Thermal Mass Flow Meter, is designed to precisely measure gas flow rates. The tiltable LCD readout built into the top of the meter displays readings in direct engineering units in terms of specific gases. Remote reading installations are possible by means of an optional extension wire supplied with a modular phone plug. A nine pin AD connector is included to facilitate 0 - 5 Vdc and 4 - 20 mA analog outputs.
The GFM's flowrates are unaffected by temperature and pressure variations. Aluminum and Stainless Steel models are offered. Zero and span adjustments are conveniently accessible from the outside; a dip switch is added for external adjustment of the decimal point of the LCD readout. Optional rechargeable battery kit is available for portability.
Design Features Include:
Accuracy: ƒp1.5% of full scale.
Repeatability: ƒp0.5% of full scale.
Maximum Flow: 1000 sL/min [N2].
Response Time: Typically 2 seconds to within ƒp2% of flow setting.
Maximum Gas Pressure: 500 psig / 34.5 bars.
Time Constant: 800ms Transducer Input: 12 Vdc; 200 mA maximum.
Output Signal: 0 - 5 Vdc or optional 4 - 20 mA Readout: 3 - 2 digit LCD.
Connections: 1/4" or 3/8" compression fittings.
Visit Aalborg®'s online catalog. www.aalborg.com Call 1-800-529-4180 or 1-845-770-3000.
---