Model P Meters for Low Flow Rates
Product Announcement from Aalborg Instruments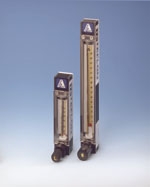 Designed for low flow rates, Aalborg®'s Model P Flow Meters offer simplicity, versatility and economy. These units are particularly suitable for metering carrier gases in chromatography, indicating and controlling gases in manufacturing processes, and measuring liquids and gases in laboratories. All meters are shipped completely assembled.
Design Features of Model P Flow Meters Include:
Magnifier lens in the front shield to enhance reading resolution.
Rib-guided or Fluted metering tubes to assure stable, accurate readings.
Easy installation of interchangeable flow tubes and floats.
"Non-rotating" adapter to prevent tube-turning during assembly.
OPTIGRAD™ scales which minimize parallax and eye fatigue.
Chemical compatibility.
Simple panel-to-bench mounting conversion with optional Tripod.
P Meters are available with built-in needle valves (CV™), high precision metering valves (MFV™) with "non-rising stems", or with no valves. The higher cost of MVT™ valves is justified whenever high sensitivity control and resolution are desirable, particularly in conjunction with metering tubes of very low flowrates.
---