Flow Meter..New Multi-Parameter Paddle Wheel
Product Announcement from Aalborg Instruments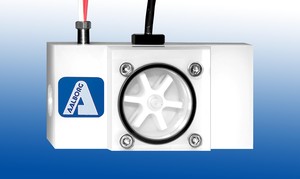 Aalborg®'s - Multi-Parameter Paddle Wheel Flow Meters offer cost- effective, high- accuracy solutions to low flow liquid applications. Simple in design with only one moving part, the units are easy to install and operate. Sapphire jewel bearings facilitate virtually friction-free impeller wheel rotations resulting in linear low flow metering.
Models constructed of Polypropylene or chemically resistant PVDF can be mounted either horizontally or vertically. Designed for measuring very low liquid flow rates and for highly accurate temperature readings, Paddle Wheel Meters are ideally suited to many flow system applications. Constructed of durable materials, the meters ensure long operational life.
Design Features Include:
Flow metering accuracy ±1% FS.
Temperature output from Platinum RTD, 0.00385 TCR, meets EN 60751, Class B.
Field replaceable sensor.
Optional four-wire Platinum RTD probe.
Visible flow indication via transparent acrylic cover.
Versatile square wave flow output signal.
Female NPT ports.
Typical applications for Paddle Wheel Flow Meters include: research and development facilities, metering applications, test stands, OEM applications, water treatment systems, water dispensing systems, flow verification, and process applications.
Visit Aalborg®'s online catalog www.aalborg.com Call 1-800-529-4180 or 1-845-770-3000.
---