Flow Meters... Digital Paddle Wheel
Product Announcement from Aalborg Instruments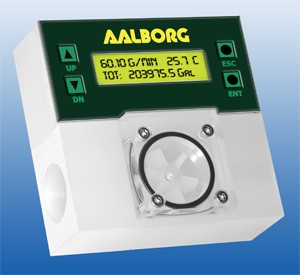 Aalborg®'s - Password-Protected access to process parameters eliminates user-tampering or resetting. Flow rates can be displayed in 23 different volumetric or mass flow engineering units. In addition, flow meter parameters and functions can now be programmed locally via optional key pad and LCD or remotely via RS-232/RS-485 interface.
Simple in design with only one moving part, these units are easy to install and operate. Sapphire jewel bearings facilitate virtually friction-free impeller wheel rotations resulting in linear medium flow metering. PWE supports various functions including two independently programmable flow totalizers, self-diagnostic alarm, flow pulse output, and analog 0-5Vdc or 4-20 mA output flow and temperature signals.
Models constructed of Polypropylene or chemically-resistant PVDF can be mounted either horizontally or vertically. Designed for measuring highly accurate temperature readings, PWE Digital Paddle Wheel Meters are ideally suited to many flow system applications. Durable materials of construction ensure long operational life.
Enhanced Design Features
Free communication software with temperature and flow data logging capability.
Flow metering accuracy (inc. linearity) ±1% FS.
Temperature accuracy (inc. linearity) ±0.5 ºC.
Two sets of user-programmable optically-isolated outputs.
Available with or without local key pad and 2x16 character LCD readout with adjustable back light which provide flow rate, total volume reading, diagnostic events indication, and protected access.
Optional platinum RTD.
Typical applications for Paddle Wheel Flow Meters include: research and development facilities, metering applications, test stands, OEM applications, water treatment systems, water dispensing systems, flow verification, and process applications.
Visit Aalborg®'s online catalog www.aalborg.com Call 1-800-529-4180 or 1-845-770-3000.
---