Flow Meter or Controller...two in one
Product Announcement from Aalborg Instruments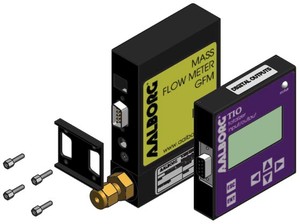 Aalborg's - This device can be used as a monitor for Aalborg®'s GFM and AFM Flow Meters or as a controller with GFCs and AFCs for gas applications. The TIO can also be used for gas or liquid applications with any third party devices with 0-5VDC/4-20mA inputs and outputs. No host PC presence is required for local or programmable Set-point control.
The TIO's compact size is designed for wall, panel, field, or unit mount applications. It is easily mounted to a GFM or GFC by simply unscrewing the unit's D-connector and attaching the TIO. A bracket and screws are provided in the Mounting Kit.
Aalborg® configures the TIO input and output signals to your specific application. Changes can be easily made via a user-friendly menu. All process configuration parameters' settings are password protected to prevent accidental or unauthorized changes.
This model is equipped with two programmable optically-isolated digital outputs and a user-programmable optically-isolated pulse output with preset active low time interval.
The two fully independent programmable Totalizers allow up to 9 digit total readings. Both Totalizers are updated every 100 ms and can be set to activate different events. The main Totalizer's accumulated total is backed up every second with EEPROM memory.
Design Features Include:
-Batch control (Lifetime and Specific Event Totals).
-Free Configuration and Monitoring Utility software.
-Displays instantaneous, total, and accumulated flow rates.
Visit Aalborg®'s online catalog. www.aalborg.com
---