Vortex Flow Meters.. 4 Inch To 12 Foot Pipes
Product Announcement from Aalborg Instruments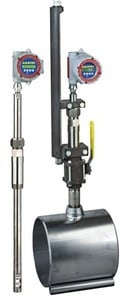 Aalborg Instrument - Model iVX Insertion Vortex Shedding Flow Meters simultaneously indicate volumetric and/or mass flow rates of gases, liquids, or steam. Constructed of 304 or 316 ss, the units accommodate inside pipe diameters of 4 inches to12 feet allowing a wide range of insertion applications.
Installation by porting directly into conduits eliminates the need to lengthen the pipe line. An optional isolation valve permits installation, servicing, or removal of the iVX Meter without shutting down processing operations. The lack of moving parts assures reliability and low maintenance - no holes to clog and no fluid-to-sensor contact.
Insertion Models simultaneously display mass flow and volumetric information. In addition, Aalborg®'s proprietary DSP algorithm accurately filters vortex frequency, improves the quality of flow measurements, and improves low flow accuracy.
Design Features Include:
Password-protected data entry
Extensive diagnostics
Selectable engineering units
Two programmable Totalizers
High flow turndown ratio up to 10:1
Accuracy ± 1% FS
Electronics can be remotely mounted up to 30.5 m (100 ft.)
Key pad or communication interface provided
Fixed or retractable mounting
Each iVX Meter is individually programmed.
Visit Aalborg®'s online catalog www.aalborg.com Call 1- 800-529-4180 or 1-845-770-3000.
---