Digital Flow Meter- Optional Profibus Interface
Product Announcement from Aalborg Instruments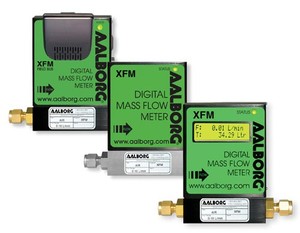 Aalborg® - NEW Model XFM, the latest addition to its programmable Thermal Mass Flow Meter line. This low cost "smart" meter is designed for convenience (it can be programmed remotely), performance (unit stores calibration data for 1-10 gases and conversion factors for up to 32 gases), and accuracy (±1% of FS at calibration temperature and pressure).
The XFM's automatic sensor zero offset adjustment can be activated locally (maintenance push button) or remotely (via digital interface). Digital command technology starts, reads, or saves the current auto zero value.
Additional XFM Features:
Digital interface RS485, RS232 (with or without LCD displays), and optional Profibus DP (with I&M functionality).
Programmable Totalizer.
High/Low Flow Alarm Limits
Self-Diagnostic Tests.
23 different Volumetric Flow or Engineering Units.
Internal or user-specific K-factors.
Aalborg®'s XFM Digital Thermal Mass Flow Meters are NIST traceably calibrated and individually programmed.
Visit Aalborg®'s online catalog. www.aalborg.com Call 1-800-529-4180 or 1-845-770-3000.
---