Medical Device Electropolishing and Passivating
Service Detail from Able Electropolishing Company, Inc.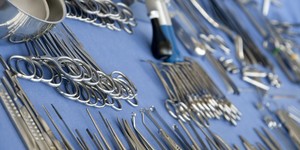 Able Electropolishing Co., Inc. has had years of success electropolishing 420 SS surgical stapler components. To ensure that the staples fire freely and do not jam, the parts require a burr free, smooth surface. In addition, the electropolishing is used to remove the heat tint from heat treating, leaving the parts with a decorative, clean and passive finish.
Another successful application is the electropolishing of 420 SS saw blades used in orthopedic surgical procedures. These parts are made from 420 SS and are laser cut into various shapes and sizes. It is critical that the cutting teeth are free from burrs and laser slag and remain sharp for accurate cutting. Not only does the electropolishing accomplish this, but the process also removes the discoloration from laser cutting giving the parts a nice bright, uniform appearance.