Electropolishing for Improved Corrosion Resistance
Service Detail from Able Electropolishing Company, Inc.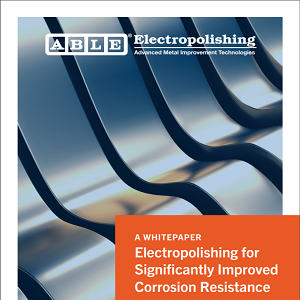 Manufacturers of parts for medical devices and implants or flight critical parts for aerospace can't use parts with surface defects that can become initiation sites for corrosion, bacterial contamination or lead to part failure.
Electropolishing provides enhanced corrosion resistance and a microscopically smooth and defect-free surface that ensures optimal fit, life cycle and corrosion resistance for these critical metal parts.
In fact, electropolishing leaves parts 30 times more corrosion resistant than passivation alone, while also leaving parts in a passivated state. Learn more in our whitepaper, Electropolishing for Significantly Improved Corrosion Resistance, which includes three case studies.