ABAR1504-S2450 | 15x4mm 2.4Ghz WiFi/BT PCB Antenna
Featured Product from Abracon, LLC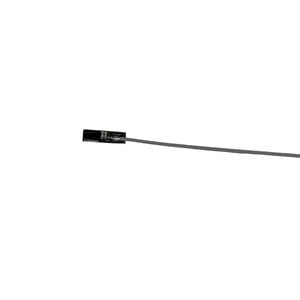 The 15.0 x 4.0mm ABAR1504-S2450 is the most compact cabled 2.4Ghz antenna solution available. It also has a low VSWR (1.63 typical).
The low profile (0.8mm) PCB antenna provides design flexibility that makes it an ideal solution for countless applications, including medical, wearable, home automation, security and appliance devices.
The antenna is an effortless, cost-effective design alternative to comparable chip antenna because it delivers a similar radiation pattern as a chip antenna but without requiring as much design space.
Whereas a chip antenna requires ground space and RF expertise to consult on the design, the ABAR1504-S2450 has a cable and connector that allow for straightforward integration. Simply take off the adhesive tape and add the antenna right into the design.
The antenna comes with an IPEX connector and a 250mm cable. However, Abracon offers customizable cable length and connector solutions upon request. Contact your local sales representative for more information.
The antenna operates in the 2400-2484 MHz frequency range and in the standard -40 ?C to +85 ?C temperature range.
The ABAR1504-S2450 is now in stock and available through Abracon's franchised distributors.
See the ABAR1504-S2450 and Abracon's full range of wireless connectivity solutions in the newly updated Interactive Antenna Catalog.