AX3 ClearClock™ 3.2 x 2.5 mm XO with <80fs Jitter
Featured Product from Abracon, LLC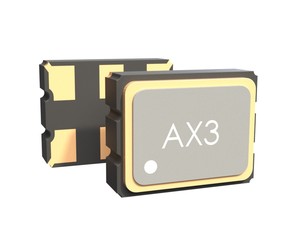 Abracon's ultra-low jitter and power-optimized AX3 ClearClock 3.2 x 2.5 mm crystal oscillator is ideal for applications requiring carrier frequencies in the 100MHz to 200MHz range. This next generation of ClearClock™ is designed to meet the needs of compact applications such optical modules, active cables and small networking and storage gear while maintaining the world's highest data rates in excess of 10Gbps and up to 100/400Gbps.
Most network processors and advanced CPUs require ultra-low jitter for connectivity greater than 10Gigabits per second and up to 100Gbps. The AX3 provides the best combination of ultra-low sub-100fs jitter performance in a small footprint. Typically consuming 30mW of power at the lowest operating voltage of 1.8V, the AX3 delivers industry-leading low power consumption for a low noise differential XO.
The AX3 device's simplified architecture avoids phase locked loop (PLL) based multiplication, reducing overall power consumption far below other high performance XO alternatives. For more information, read Abracon's newest white paper, which reviews the AX3 device's third overtone solution and how it differs from the typical PLL-based architecture.
The series covers all necessary differential output logic types (HCSL, LVDS, LVPECL). View Inventory.
Exceptionally Low RMS Jitter: <80fs Typ (150fs Max @ 156.25MHz)

Available in industry standard frequencies: 100MHz to 200MHz

Lowest power consumption in its class: 16mA Typ LVDS @ 156.25MHz

±25ppm stability: Over industrial operating temperatrue (-40 to +85ºC)

3.3V, 2.5V, 1.8V supply voltage options

LVPECL, LVDS, HCSL differential outputs

Industry standard 3.2 x 2.5 x 1.0 mm Footprint

Available throughout Abracon's Global Distributor Network
PCI Express

10G/40G/100G Optical Ethernet

RF Systems & Base Stations (BTS)

Data Center

Test and Measurement