Grey Glass Beneficial for Diffusion
Featured Product from Abrisa Technologies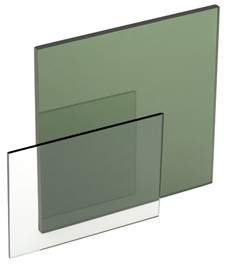 Download this information as a pdf
Grey Glass
Grey Glass or smoked glass in lay terms; is a tinted soda lime glass that is primarily used to restrict or reduce light transmission (transfer) as well as for decorative applications. Generally used for windows, grey glass can be used to prevent fading of furnishings, carpeting, clothing, artwork, etc. It is also used to add a level of privacy. Grey glass is suitable for commercial and home use.
Benefits of grey glass:
Increased privacy due to darker tint
May provide cooler indoor temperature if used as a window
May reduce glare
Has a reduced opacity
Common uses for grey glass:
Glass shelving or table tops
Partitions
Bathrooms (showers)
Doors & windows
Storefronts & exteriors
Grey glass can be specified in various transmission ranges depending upon the amount of visible light desired to be passed or restricted. The lower the transmission value, the darker the tint and the least amount of transmission.
Even though the grey glass may be nearly black in color, it remains transparent. The darkest or grey 8 which allows for only 8% transmission is ideal for privacy applications.
Abrisa Technologies stocks grey glass in thicknesses from 3mm to 6mm (1/8" to 15/64") and in sheet sizes up to 96" x 65" (2438.4mm x 1651mm). Contact us for non-standard requirements.
Guide to Glass - The Selection Process
Selecting Glass to Meet Requirements
Different types of glass possess different qualities depending upon their chemical makeup and how the glass was produced. Choosing the right glass for your application requires understanding the different physical properties each has.
Watch>>>Abrisa Technologies Capabiities Video
Abrisa Technologies is a recognized global supplier of high quality, fabricated glass components, optical thin film coatings, and custom glass solutions for a wide variety of industries. From our US based Abrisa Industrial Glass fabrication facility in Santa Paula, CA and our ZC&R Coatings for Optics division in Torrance, CA we serve diverse industries such as microelectronics and displays, semiconductor, military, automotive, aerospace, medical, biomedical and scientific R&D. We provide custom specialty flat glass and coating products for applications such as: flat panel display, touch and gesture recognition; visible to IR imaging and surveillance; entertainment, indoor and outdoor lighting; advanced instrumentation; and photonics.
Resource Center