Bus Bars & Display Glass Screen Printed Graphics
Service Detail from Abrisa Technologies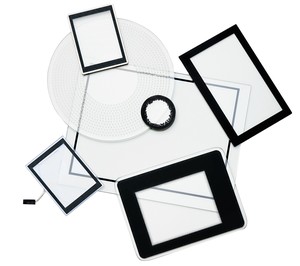 Abrisa Technologies is an industry leader in Bus Bar and display printing. Typical applications include printing gauges and instrumentation, display and touch panels, icons, borders, logos, lettering, and more.
The screen printing department at Abrisa Technologies has recently been upgraded and now has the capability to large format screen printed optics.
In addition, the class 1000 clean room at Abrisa Technologies has a fully automated printing system which allows Abrisa Technologies to meet a very high print-to-packaging cleanliness and efficiency standard. The system prints with an accuracy of ±15µm @ 4 sigma; ensuring the highest level of precision printing in formats up to 460 x 460 mm.
Print projects can utilize a combination of conductive or display inks, along with custom color matching to meet each unique application requirement. Abrisa Technologies uses epoxy, thermoset, enamel, and ceramic-based inks. In addition, opaque and semi-transparent inks can be specified.
Combine screen printing with Abrisa Technologies' high precision glass fabrication and thin film coatings for a fully integrated optics solution from basic glass components to the most complex device.