Conductive Bus Bars on ITO/IMITO Coated Glass
Service Detail from Abrisa Technologies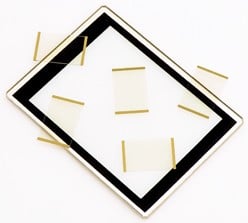 A bus bar is a strip of conductive material applied to the surface of a conductively coated glass, most commonly ITO (indium tin oxide) or IMITO (index matched ITO) coatings. Bus bars are screen printed onto an exposed surface of the coated glass; Abrisa applies bus bars either by thin film deposition of chrome-nickel-gold or by screen printing. The conductive nature of these materials makes them excellent bus bars.
The primary function of a bus bar is to conduct electricity. Typical bus bar applications for optics include heater windows and EMI Shielding.
In the case of IMITO coatings, we need to expose the ITO so that the bus bar can be applied directly to the conductive ITO coating.
Abrisa Technologies is a recognized global supplier of high quality, fabricated glass components, optical thin film coatings, and custom glass solutions for a wide variety of industries. From our US based Abrisa Industrial Glass fabrication facility in Santa Paula, CA and our ZC&R Coatings for Optics division in Torrance, CA we serve diverse industries such as microelectronics and displays, semiconductor, military, automotive, aerospace, medical, biomedical and scientific R&D. We provide custom specialty flat glass and coating products for applications such as: flat panel display, touch and gesture recognition; visible to IR imaging and surveillance; entertainment, indoor and outdoor lighting; advanced instrumentation; and photonics.