Custom Soda Lime Glass Fab & Coatings
Service Detail from Abrisa Technologies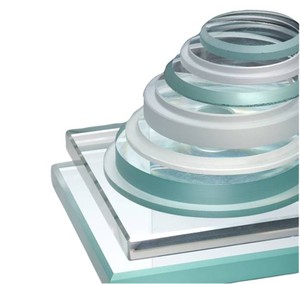 Soda-lime glass, also called soda-lime-silica glass, is the most prevalent type of glass, used for window panes, and glass containers (bottles and jars) for beverages, food, and some commodity items. Glass bakeware is often made of tempered soda-lime glass.
Abrisa Technologies can provide custom fabrication and thin film coating of a wide selection of soda-lime float glass. Soda-lime glass can be chemically strengthened to increase mechanical strength or heat strengthened/tempered to increase thermal shock resistance and mechanical strength. The substrates can be machined, optically coated, chemically etched, sandblasted, colored, or laminated.
Soda-Lime sheet glass is made by a floating molten glass on a bed of molten tin; this method gives the sheet uniform thickness and very flat surfaces. Soda-lime is the base material for most clear, colored, and patterned glass types. Soda-Lime glass can be used in a wide range of applications.
Abrisa Technologies can supply the following soda-lime glass substrate material: