Dead Front Glass Back-lit Display Panels
Featured Product from Abrisa Technologies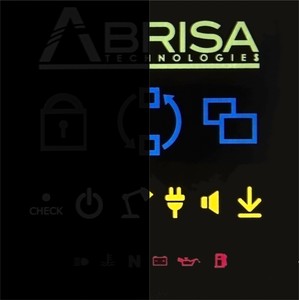 Abrisa Technologies now provides Dead Front Panels for Backlit Display and User Interface applications that afford equipment designers greater flexibility in achieving the overall clean lines and sleek uncluttered aesthetics they seek. When backlit, the Dead Front Panel illuminates and draws attention to icons and alpha-numeric indicators as required. When non-backlit, the icons remain hidden and the panel retains a more monochromatic and streamlined look, in perfect keeping with the dashboard or device they are installed into.
Dead Front Screen Printed Graphics
Transmission levels: 5% or 10%
Colors: Black as standard
Optional Colors: White & PMS color matched
Minimum Feature Size: 0.005" line widths
Printed Glass Size: 0.3" x 0.3" up to 18" x 24"
Glass Thicknesses: 0.030" up to maximum of 1"
Complete Solutions for Dead Front Panel Glass
Proprietary screen printed graphics for control of contrast and luminosity
Custom fabricated and shaped glass
Chemical strengthening or heat tempering
Non-glare sunlight readable options
Anti-Reflection (AR) Coatings
Oleophobic and anti-scratch coatings
Applications
Cockpit Control Panels
User Interface Panels
Display Controls
Touch Keypads
Vehicular Indicators
Equipment Control Panels
Lighting Control Panels
Instrument Control Panels
Appliance Indicator Panels
Gauge Indicator Panels
Abrisa Technologies provides complete solutions for your Dead Front Panels. From our vast selection of glass substrates to fabrication, strengthening, coating and screen printing, our ready-to-install Dead Front Panel glass offering is unequalled.
Dead Front Screen Printed Graphics
Survive an acetone rub test
Meet the class 4B, 5B crosshatch razor scribe adhesion standards of ASTM D3359
Withstand temperatures up to 400ºF
Dead Front Glass Capabilities
Large selection of float, low expansion Borofloat® 33 borosilicate and high durability HIE™ aluminosilicate flat glass
In-house chemical strengthening and heat tempering
Cutting, shaping, hole drilling, slotting, beveling, grooving, and custom CNC machining
Additional Value-Added Options
AR and non-glare (NG) coatings for "readability"
Oleophobic anti-smudge, anti-print coatings for easy cleaning
Anti-scratch, break resistant glass and coatings
Other Graphic Options
High Opacity - "No Pinholes"
Ceramic Frit - Durable and Glasslike
Metallic Inks - Trendsetting, Reflective
PMS Color Match Inks
"Frosted" or Etched Glass Look
Applied "Tint" and other Films